COMMERCIAL CONSTRUCTION SERVICES
Design Build affords you a non-adversarial single source team designing your project to a predetermined budget and delivery date. We take on the responsibilities of sourcing and managing all architectural, engineering, property development and construction services. By integrating the design and construction phases of the project, the design-build process streamlines and propels the project development significantly in contrast to a slower conventional design-bid-build.
At The Plaza City Company, we use Design-Build
in more than 90 percent of our projects
Our teams are custom built for each project, composed of an all-star cast selected specifically for the task at hand. With an integrated Design-Build approach, our teams are free to do what's right for the job. Project challenges become opportunities to think,, to find innovative solutions, to build smart.
It's how we get the job done. On-budget. On-time. Every time.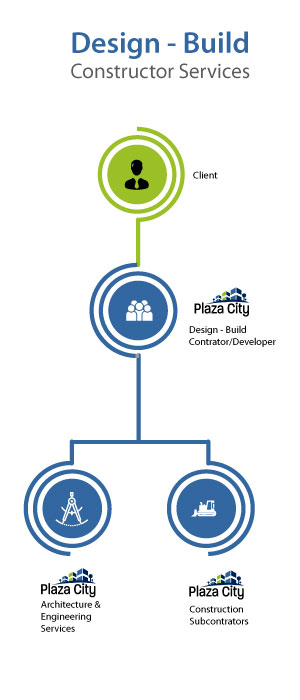 We are able to partner with qualified architects and engineer professionals to offer an unmatched solid management approach from conceptual design through project completion.
Our range of services is backed by a strong foundation of bonding and financing ability. They include:
Conceptual Design
Site Development
Budget Estimating
Value Engineering
Preliminary Drawings
Single Source Responsibility
Methods to Expedite Occupancy
Complete Design and Engineering Services
Our commitment to you is to provide a quality cost effective building project and build a long-term relationship of dependability and trust. We will strive to not only meet, but surpass your expectations.